To further enhance the power of marketing for the company, Partner.Co has appointed Mark Patterson as its Chief Marketing Officer, and he has already been featured in Direct Selling News.
Patterson is a five-time Marketing Executive Stevie Award winner with more than two decades of experience in the direct selling industry. Before taking on the role of CMO at Partner.Co, he was integral in transforming a direct sales startup into a billion-dollar company within just five years.
His decision to join Partner.Co came after speaking with the company's visionary leaders, CEO Darren Zobrist and Chief Brand Partner Officer John Wadsworth.
"After talking with Darren and John, I could see this was a startup backed by solid investors that had built-in infrastructure. Licenses in over 50 countries, product lineup with a built-in fanbase, a large team of BP's ready and excited to get going."

CMO Mark Patterson
He also cited the duo's long-term visions for the company, saying the fact that they intend to buy and grow the company, not just buy and sell, was huge.
"It shows their commitment to the company, and that kind of commitment appeals to me. I want to know that we as a company are all working towards the same goals of growth, success and progress. This ethos — especially when taken in conjunction with the values they set in place — mirrors my own."

CMO Mark Patterson
Patterson's first task was to define what Partner.Co meant and its importance to Brand Partners. To do that, they started with the simplest elements — the name, logo and color — and worked to define what would be the start of Partner.Co's legacy.
In tandem with this initiative, Patterson and his team also created a brand guide unique to Partner.Co.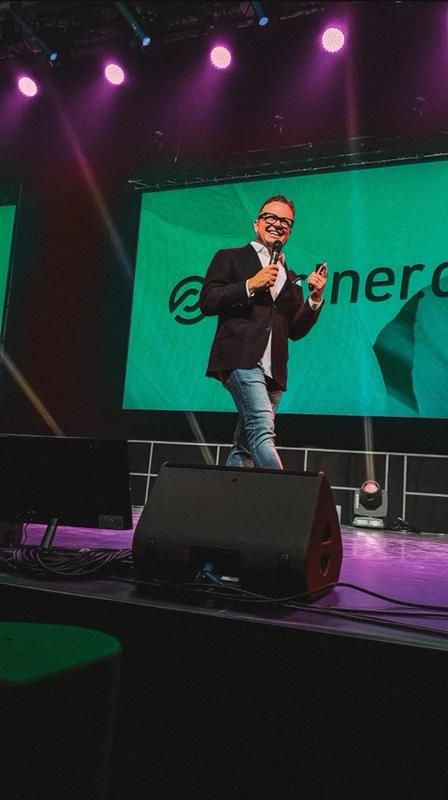 "We didn't want just a run-of-the-mill guide you might find at any company. We designed our guide to be flexible, creative and modern. Our guide illustrates something that every Brand Partner can be proud to represent and something that would be immediately attractive to new audiences."
Beyond the Brand Guide, Patterson acknowledged that time was of the essence and that he and his team needed to move swiftly to produce assets for the field to help current Brand Partners grow their teams and show more people the company's benefits. This objective has translated into his team crafting a brand-new Partner.Co product catalog, an Opportunity Presentation and Video, a sizzle reel, a branded website, training modules, events and more.
"We've been amazed at the speed and efficiency of the Marketing team since Mark has taken the helm. We already had an incredibly talented team, now we have an incredibly talented team working at the speed of light."

CEO Darren Zobrist
The official launch of the entire Partner.Co brand will be at PXP'23 | The Partner.Co Experience, taking place in Orlando, Florida and Amsterdam this fall. More information on PXP'23 can be found here.